A Personal View – Margaret Evans
Bromsgrove & Redditch Welcome Refugees (BRWR) public meeting on Wednesday 17th February saw the Parkside Council Chamber crowded with 132 people – more chairs were needed to seat us all.  BDC Council Chairperson, Caroline Spencer welcomed everybody. Yvonne Rendell the BRWR group chair spoke about how the group was formed. People were advised to visit this website: www.bromsgrovewelcomesrefugees.uk for more information.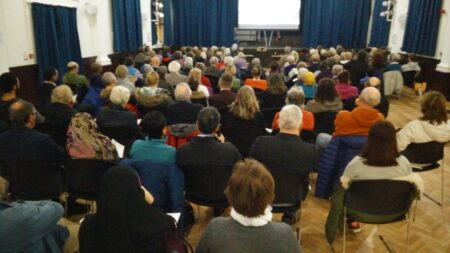 We listened to the reality of the refugee situation from two people who have spent time in the refugee camps in Calais and in Dunkirk. Bromsgrove Standard reporter, Anu Shukla, and Kirsty, from the organisation 'People in Motion,' both spoke of their experiences in talking to the thousands of displaced people in the camps. We saw photographs and a film, made by Anu, which gave refugees' personal accounts.
Our keynote speaker, Professor Jenny Phillimore from Birmingham University, talked about the process of Integration for Refugees. Integration is about mutual adaptation, which means we must change as well, when refugees come here.  Their reception here can traumatise them further if not handled sensitively, but the welcome must be widespread so as not to alarm them. A third of refugees have encountered harassment towards women and children, who do not report it, which can encourage them to think 'no-one wants me' and lead to mental illness.
After the welcoming, they must then be given time and space on their own to orient themselves: everything in their world will have changed for them – as well as the traumas they will have suffered. They may not be able to express themselves if they are depressed – not having the words to describe it. This is where mentoring and handholding can be helpful. Not until they feel safe will the enormity of their loss strike them: the loss of their entire world.
They will need to be directed and taken to places such as the library, the shops, or a place of worship. The places of worship need to be prepared and we need to talk to existing faith communities about what they can set up. Age and gender matching is important for mentoring and they need to be told local customs day by day. They need to be told what day to put the rubbish out, taken on local tours, helped to be self-sufficient. Refugees are the most sanctioned people in the UK – they must be told the rules that they must sign on, whatever their personal condition (sickness, even funeral attendance.) We can go with them to sign on. Our alien food can give them gastric problems. Our volunteers could give them cooking lessons.
They will need an opportunity to reconnect with family and friends via actual or virtual means. Our volunteers can perhaps take them to meet their families and friends in other places, on a regular basis. The government is inclined, with its rhetoric of fear, to disperse refugees thinly, which makes no sense. In the orientation phase clusters are proven to be better rather than being widely dispersed, to build up refugees' confidence and prevent isolation, which of course can lead to mental illness. We could ensure they have access to wi fi for internet contact with friends through means such as Facebook, or What's App.
Our government ignored the crisis for a long time, until the outcry after the publication of a photo of the drowned little boy, Alan, lying on a beach. They now are being reactive, not proactive.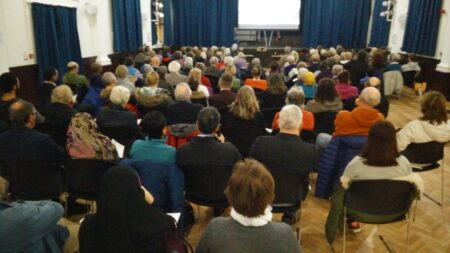 In Calais and Dunkirk, the camp residents are enterprising resilient people who speak English, have relatives or friends here, who may have trained here in the past, or visited as students. These are qualified, skilled people sitting on our doorstep, but the government is not allowing them in. Why are those with British passports not allowed to bring their families over here? There are people who speak English in the camps, who have trained over here and could be useful in helping others to integrate into our society. They may even want to start their own businesses, as refugees into this country have always done.
No, our government has instead decided that we should take the most vulnerable people from the Syrian refugee camps, who are probably illiterate, won't speak English, have special needs and will need far more support to make their life over here. It is shameful that the whole of Worcestershire is only taking 50 people after April, when those more skilled refugees who could help with that support, are left to rot in France in the worst of weathers. Bromsgrove, Malvern, Droitwich, and now Kidderminster Wyre Forest are anxious to help and in process of forming welcoming groups. It seems obvious that we MUST take more into the UK from the nearby camps, for all our mutual benefit.
We will be faced with a disaster on an unprecedented scale if we do no more than just a knee jerk unthinking reaction to this crisis, which seems to be what has happened so far.
To conclude the meeting many questions were asked of the panel – Yvonne Rendell (Chair, BRWR) Naeem Arif, Anu Shukla, Kirsty, and Professor Jenny Phillimore.
These questions were:
Where and when do the Arabic classes that were mentioned take place?
2. Are there plans for ESOL classes for refugees, and is Heart of Worcestershire College engaged with it?
3. Why are so few refugees coming to Bromsgrove/Worcestershire?
4. Can we apply pressure on government and on our local MP to take more?
5. What is BRWR's forward planning to support refugees?
6. Can we collaborate with neighbouring welcome groups e.g. Stourport and Bewdley support group?
At the end of the meeting, attendees, who had brought a huge quantity of donations to be sorted and taken direct to Dunkirk or Calais, helped load them into the van waiting outside.
Margaret Evans