At: St Lukes Church, Evesham Road, Headless Cross, Redditch
From: 2pm until 5pm. (the van leaves at 5pm!)
** Bring some cash and buy a copy of the delightful 'Cookbook For Syria'.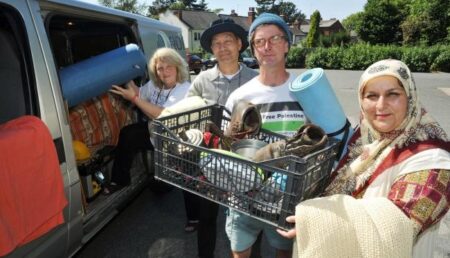 In particular we are collecting:
– Warm Clothes for all the family.
– Jackets, Coats, Waterproofs, Wellies.
– Men's & Women's Jeans, Trousers and New Thermals.
– New Underwear and Bras, Warm Socks.
– Practical Shoes & Boots for anyone.
– Warm Hats, Gloves, Hand Warmers.
– Educational toys.
– Toothpaste, Toothbrushes, Liquid Soap, Sanitary Towels.
– New Combs & Hairbrushes, Nail Clippers, Deodorant, Shampoo.
– Canned Fish, Chick Peas, Lentils, Beans.
– Roll Mats, Sleeping Bags, Complete Tents.
– Camp Kettles & Camping Pans.
We are collecting these items for Worcestershire charity 'People In Motion' who will be sending your donations to refugee camps across Europe and into Syria. Thank you