BRWR have teamed up with SOS Charity Fashion Shows to organise a fundraising event at the Bromsgrove Methodist Centre on 1st October.
SOS Charity Fashion Shows bring the latest in ladies high street fashion all under one roof, at a fraction of the usual price, which can be bought at the event.
BRWR raise funds through ticket sales
To get your tickets, email info@brwr.uk
Get more information about SOS Charity Fashion Shows on their website:https://charityfashionshows.co.uk/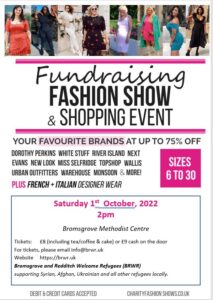 You can also volunteer to be a model at the event. Please contact info@brwr.uk.to add your name.