Dear friends
I am sure you'll be delighted to know that tonight our Vice-Chairman, Naeem Arif won the 'Outstanding Community Individual' Award in the '2016 Spirit of Bromsgrove Annual Awards Ceremony'.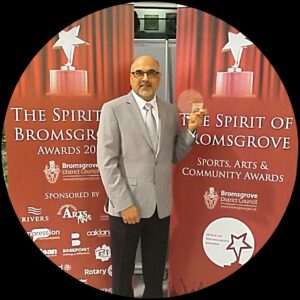 This was a very competitive category whereby several people from whole of Bromsgrove District where nominated out of which the judges shortlisted three outstanding individuals and in the awards ceremony tonight Naeem won!
This is history in the making – Naeem is the first Muslim and an individual from a minority ethnic background in the history of Bromsgrove to have won this award.
At a time of much negativity Naeem has brought positivity for our community and our holy faith. We are proud of him and for all the hard work he does in a voluntary capacity for not only BMCT but Bromsgrove & Redditch Welcome Refugees group of which he is also the vice chairman, as well as helping those less fortunate through food banks, interfaith work and bringing communities together.
His tireless efforts along with his colleagues on the refugee committee has helped to promote awareness, develop networks and create a welcoming environment for refugee families, which I understand are due to arrive in Worcestershire county in July this year.
He is truly and inspiration to all of us and a true ambassador of Islam, humanity and our community.
May Allah bless him and his family always. Ameen.
Best wishes
Waqar
*Dr Waqar Azmi OBE*
Chairman, Bromsgrove Muslim Community Trust