Announcing our sensational 'Gimme Shelter' concert on 22nd February.
A showcase of local musicians are performing for our worthy cause to help raise funds to support refugees.
'Gimme Shelter' at the Artrix in Bromsgrove, is a fundraising concert and evening of celebration to raise money to support the local Syrian community, who arrived this summer and to help refugees displaced across Europe.
Organised by BRWR, the concert will include Samba, Folk, Blues, Jazz, Roots, Country and more.
Compère for the night will be the inimitable poet and Rubery legend 'Spoz.
Held on Wednesday 22nd February, the performance starts at 7pm, with doors open from 6.30pm. Tickets cost £15 and are available at Artrix Box Office on 01527 577330.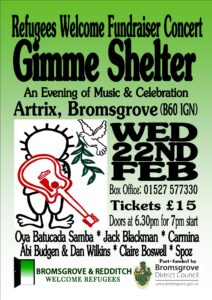 We're planning a sensational night; with a lively Samba band, Bromsgrove's Town Crier and a wealth of local talent that spans several styles. There'll be something for everybody. Bring your family and enjoy a magical evening of music. The message behind the concert is simple; we all feel love and pain. And we all deserve a safe place to live.
Acts performing alongside 'Spoz include Oya Batucada Samba, Jack Blackman, Abi Budgen & Dan Wilkins, Claire Boswell and Carmina.
You will also have the chance to buy our fantastic 'RefuJUICE'.